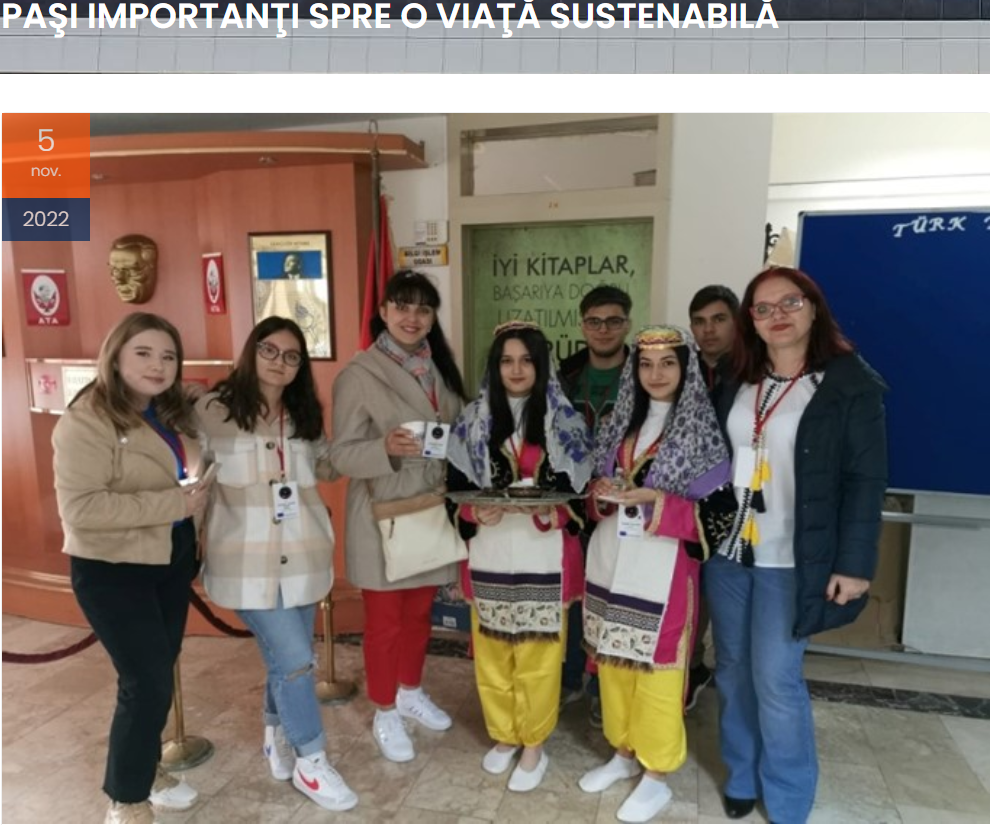 Between October 24-29, the third mobility took place within the "Act for a Sustainable Life" (Learning Teaching Training) project organized by Canik Türk Telekom MTAL High School, Samsun, Turkey. The teams of partner countries Romania and Poland were composed of 2 teachers, respectively 4 students from each country, who, together with the host country, participated in the activities proposed by the teachers and students of the high school in Samsun. Our country was represented by the students of the Technological High School "Lazar Edeleanu" Navodari, Bianca Roşu, Antonio Ursei, Robert Bălţatu and Mădălina Fiofil, accompanied by teacher Bulgariu Alina (project coordinator) and director Filip Roxana.

The aim of the project is to sensitize young people to environmental and climate issues that will be able to find solutions for our unique planet.

On the first day, the mayor and city councilors were invited to the project's opening ceremony, a traditional dance group, and the partner countries presented their schools. The inauguration of the room where the vertical greenhouse was installed took place, giving also details about its construction and use, then the host country invited us to take a tour of the high school. Another activity of this first day was visiting the weather station in Samsun.

On the second day, the students of the three countries made a short film on the shore of the Black Sea, the scenario representing the negative consequences of plastic in the water, thus raising an alarm signal about the excessive pollution of the sea.

Then We saw the implementation of the Forest School program, where preschoolers do various activities in nature, nature education being one of the priorities of schools in Turkey, then the teachers and students of each country made kites where they wrote the names of the countries and raised them with pride. The third day was dedicated to visiting the Grand Canyon and collecting waste.

The fourth day started with a visit to the Samsun city museum, continued with a pottery workshop where the students, under the guidance of a ceramic artist, learned to use the pottery wheel and experienced the connection with clay. We went back to the high school to make purses from old, used t-shirts for the certificate ceremony.

We spent the last day in the beautiful city of Amasya, whose streets and buildings made us travel back in time. The mobility ended with a Turkish evening fascinated by the folk music and traditions offered by our hosts.